2021 Asian Triathlon Sprint Cup was held in Tashkent
9 October 2021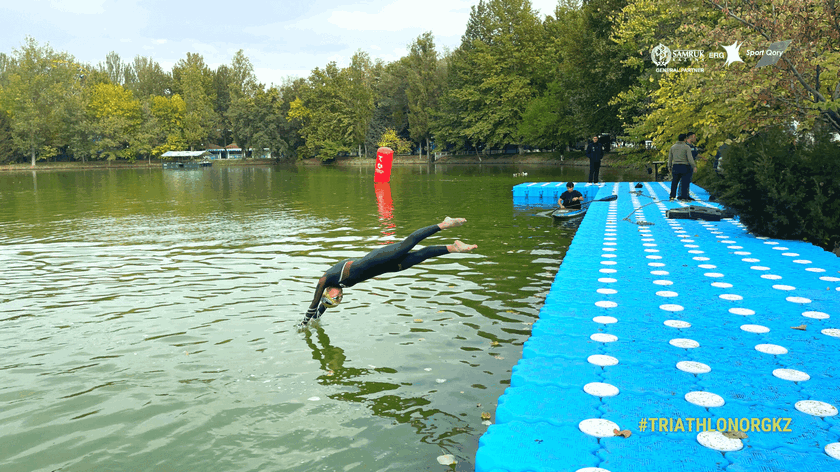 Today, 2021 Asian Triathlon Sprint Cup was held in Tashkent. The Cup was held under the auspices of World Triathlon and Asia Triathlon on the territory of Uzexpocentre and 35 athletes from 10 countries of the world took part in it.
The Tashkent weather really tested the participants of today's race: it was pouring rain in the morning, the air temperature was 10.6 ° C, and the water was 16.5 ° C, wetsuits were required.
6 athletes of the Elite category, who were considered the undisputed favorites, arrived in the Uzbek capital to represent Kazakhstan. Unfortunately, none of our triathletes had a successful race. Ekaterina Shabalina, performing under the second number, finished in last place (01:11:21). Nadezhda Bekmaganbetova ranked 8th with a time of 01:09:31. The first three leaders finished: Paulina Kilmas of Poland (01:01:16), athlete from Luxembourg Eva Daniels (01:01:44) and Lisa Berger of Switzerland (01:02:42).
In the men's category, the best result among Kazakhstanis was shown by Meirlan Iskakov, who finished the race in eighth place (00:56:30). Iskakov is behind Daryn Konysbaev (00:56:49), Ayan Beisenbaev (00:57:15) in eleventh place, Temirlan Temirov (01:00:31) in seventeenth. The victory was won by the Moroccan Badr Sivane (00:55:32), the second place was taken by the Polish athlete Maciej Bruzdziak (00:55:36), the top three was closed by the Ukrainian Vitaly Vorontsov (00:55:41).
All competition results are available at www.triathlon.org.
---