G. Sokolovas swimming technique training seminar held in Nur-Sultan
15 November 2019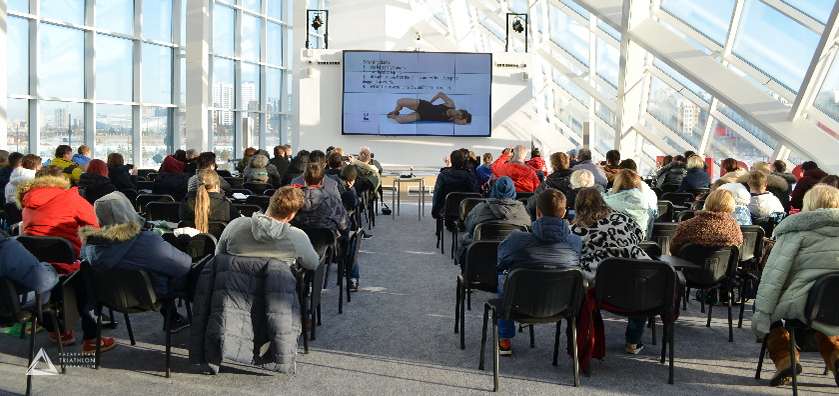 Today, the seminar of the world-famous swimming trainer Dr. Genadijus Sokolovas has completed at Nazarbayev University. The seminar, which was held from November 12 to 15, was attended by more than 50 Kazakhstani triathlon and swimming coaches.
The main theme of the course was "Preparation of athletes swimmers age group (14-17 years)." The course consisted of two main parts: theoretical and practical. In the theoretical part, questions were raised such as modern vision of the technique of sports methods of swimming (freestyle, backstroke, butterfly, breaststroke) and methods of their training and improvement (including elements-starts, exits, turns), methods and means of development of physical qualities of swimmers speed and force, in training process in water and "on land".
In the practical part, which was held in the swimming pool of the Nazarbayev University Sports Center, the speaker discussed with the participants methods and means (types of exercises; swimming accessories), for training and improving the technique of sports methods of swimming (freestyle, backstroke, butterfly, breaststroke). Also, Dr. G. Sokolovas demonstrated what testing methods determine the swimming strength of athletes (Swim Power Test), anaerobic and aerobic capabilities (Lactate Clearance).
Following the results of the seminar, many participants noted that they had achieved their goals: they received a maximum of useful theoretical and practical information.
Note that Dr. Genadijus Sokolovas is today one of the most recognizable specialists in the field of training swimmers, who has developed more than a dozen unique methods for testing athletes and maximizing their performance, for which he received recognition from the world sports community. He was the director of sports science at USA Swimming and made a great contribution to preparing the US national swimming team for the Olympic Games in Athens and Beijing. He has worked with the world's swimming elite, including Michael Phelps, Natalie Coughlin and Dara Torres.
---