Triathlon season opened in Turkestan
23 April 2022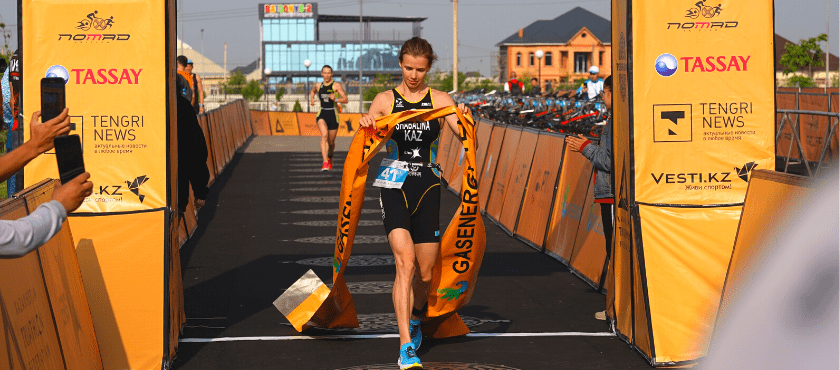 Today, the long-awaited opening of the triathlon season took place in Turkestan. The first stage of the open Cup of the Republic of Kazakhstan among professional athletes was held on the territory of the First President Park.
50 triathletes from Nur-Sultan, Almaty, Shymkent, as well as from Akmola, Aktobe, Kostanay and Turkestan regions took part in the competition. The participants competed in the sprint distance in the overall standings, which was first used in the Turkestan race.
Among the women, the representative of Nur-Sultan Ekaterina Shabalina turned out to be the best. She finished the race fastest with a time of 01:08:02. Yulia Ozerova (Kostanay region) won the second place for the result of 01:08:08. The top three of the strongest participants was closed by the Almaty athlete Daria Bychkova (01:10:15).
In the category of men, athletes from Almaty demonstrated their superiority at a distance. Anuar Turubaev completed the race in 00:59:07 and took first place. Yegor Krupyakov took the second place, 7 seconds behind the winner. In third position is the 2019 Asian junior champion Alexander Ten (00:59:31).
"I thank all the athletes and guests of Turkestan for giving such a sports holiday! Today, during the race, you covered the best places of our city: the mausoleum of Khoja Akhmet Yassavi, the central avenue, Bekzat Sattarkhanov street, the Otyrar microdistrict. Thanks to you, people in Kazakhstan and all over the world will learn that Turkestan, the spiritual capital of the Turkic world, is not only a tourist center, but also a Sports Mecca. Such best athletes as Bekzat Sattarkhanov and Oktyabr Zharylgapov were born here, powerful athletes glorified the country all over the world. I believe your example is contagious. I am sure that the children who saw today's finish line will become infected with this disease. A disease called love of sports. I believe that they will be healthier and will go in for triathlon," said deputy akim of the Turkestan region S. Kalkamanov.
The event was supported by: State Enterprise "Directorate of Sports Development" of the Committee for Sports and Physical Culture of the Ministry of Culture and Sports of the Republic of Kazakhstan, the Department of Physical Culture and Sports of the Turkestan Region, the general partner - the ERG Group, the main sponsors - the Gasenergy premium gas station network , operator of railway transport and infrastructure of the Republic of Kazakhstan - PTC Holding, amateur triathlon club Nomad TriClub, Unix LLP with the Tassay trademark.
All results are available at www.triathlon.org.kz.
---