25 September 2021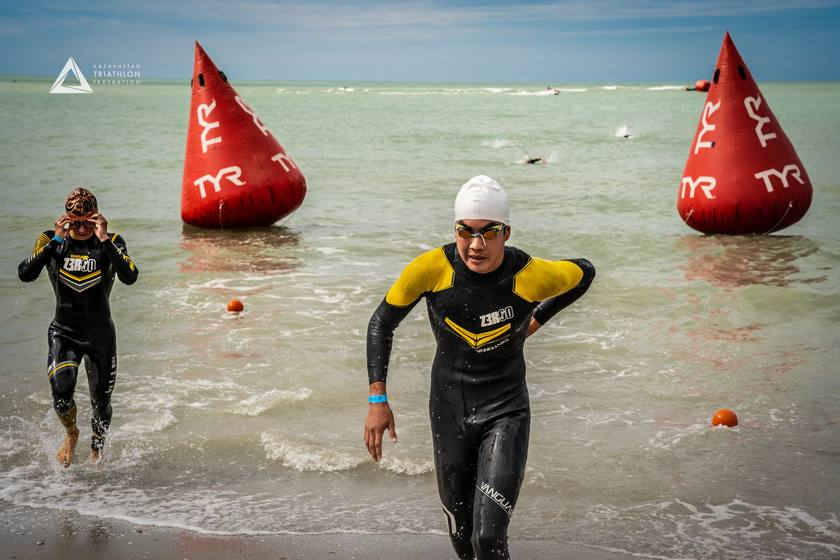 Today on the coast of the Caspian Sea the Final of the National Triathlon Cup was held. The standard distance event was attended by athletes from the Elite, U23 and U19 categories.
Aktau met the participants of the competition with a storm, which is why the start began 30 minutes later than the appointed time. The air temperature was 19 ° C, and the water was 17.7 ° C.
Elite and U23 men categories started the race first, but not all of them managed to complete it. Anaur Turubaev (Almaty) was disqualified by the judges for a wrong turn at the swimming stage. As a result, representatives of the Akmola region took the podium. Meirlan Iskakov finished first with 2:12:35, Temirlan Temirov finished second with 2:13:22.
Daryn Konysbaev (Nur-Sultan) won gold in the U23 with an absolute superiority over rivals with a time of 2:07:06. It is worth noting that Daryn showed the best time of the day at the distance. Almaty resident Kirill Rozhkov, who lost more than 5 minutes to the leader, won silver. Yerassyl Amanzholov (Turkestan region) closed the top three with a time of 2:15:13.
Among the women, athletes from Almaty took the first places: among the Elite - Daria Bychkova (2:33:23), and in the U23 category - Yulia Ozerova (2:36:26).
By the start of the U19 athletes, a strong storm had passed and the weather was conducive to a good race. For the boys, the entire podium was taken by Almaty athletes: Alexander Ten in first place (1:01:21), Yegor Krupyakov in second (1:01:58) and Daniil Porodnov in third (1:02:15). The girls' podium was taken by representatives of the south: Hafiza Gulturaeva (1:25:48) finished first, Aruzhan Amanzholova (1:39:36) finished second.
We remind you, that the events were organized with the support of the general partners: the National Welfare Fund Samruk-Kazyna JSC, the Samruk Kazyna Trust Social Projects Development Fund and the Eurasian Resources Group, also financial partner Sport Qory Tourism and Sports Industry Support Fund.
All the results can be found here.
---