Ust-Kamenogorsk will host the open national triathlon championship!
26 May 2021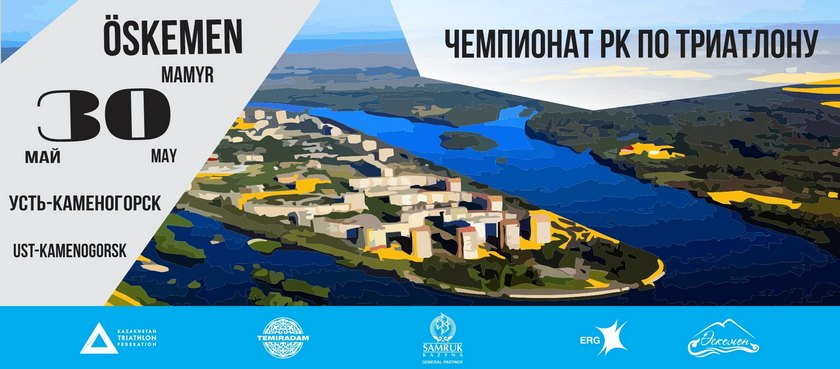 On May 30, in Ust-Kamenogorsk, the Open Triathlon Championship of the Republic of Kazakhstan among professionals will take place!
The event will be attended by Elite, U23, U19, U17 and U15 categories' athletes. U23, U19, U17 and U15 will compete at the super-sprint distance, which consists of swimming 300 meters, cycling 8 km and running 2 km. Elite will enter the fight at the same distance, but with a group start.
With the support of general partners: NWF Samruk-Kazyna JSC, the Sport Qory Sports and Tourism Industry Support Fund, the Eurasian Resources Group, the Samruk Kazyna Trust Social Projects Development Fund, RG Brands company with the ASU brand and the East Kazakhstan Region and Ust'-Kamenogorsk City Akimats.
Information support: Committee for Sports and Physical Culture of the Ministry of Sports and Culture of the Republic of Kazakhstan, WE project Media.
The organizers of the championship are PA "Kazakhstan Triathlon Federation" and Department of Sports and Physical Culture of the East Kazakhstan region.
Venue: Ethnopark of Ust-Kamenogorsk
Start of the competition: 10.00 h.
Awarding ceremony: 13.00 h.
Chief judge of the competition - Mikhail Kuznetsov
The official website: www.triathlon.org.kz.
Goals and objectives of the event:
- promotion of a healthy lifestyle and the formation of positive attitudes;
- development and popularization of triathlon in the Republic of Kazakhstan;
- development of youth sports;
- identification of the strongest athletes for the formation of the personnel reserve of the national team of the Republic of Kazakhstan;
- increasing the level of skill and qualifications of athletes, coaches and sports judges.
Reference Information
Triathlon is a kind of sport, which is a multisport race, consisting of the continuous sequential passage of its participants through three stages: swimming, cycling and running, each of which originates from an independent cyclic sport.
The Kazakhstan Triathlon Federation is a public organization whose activities are aimed at developing professional and amateur triathlon, gaining leading positions in the world triathlon and promoting a healthy lifestyle in the Republic of Kazakhstan.
Address: 010000, Republic of Kazakhstan, Nur-Sultan, Kabanbay batyr ave., 53
Phone: +7 777 306 77 11
Website: www.triathlon.org.kz
E-mail: info@triathlon.org.kz, media@triathlon.org.kz.
---