Storm triathlon in Aktau
22 September 2019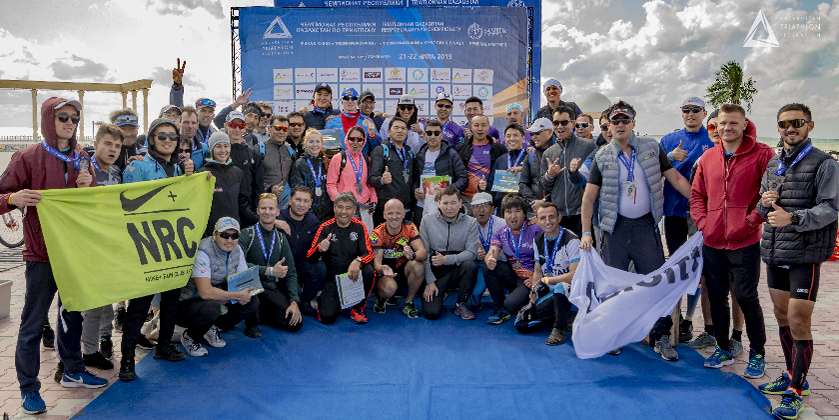 Today, the final start of the Kazakhstan Triathlon Federation was held on the Caspian Seashore . Kazakhstan professional athletes closed the domestic season with the Championship of the Republic of Kazakhstan, and Age Groupers competed in the framework of the TEMIRADAM Cup Final. For the second year already, 80 athletes from various regions of the country and neighboring countries conquered the "middle" or the so-called "half-iron" distance.
This year, the famous city of Aktau did not meet the participants of final competitions with the most rainbow weather. The cold north wind, the speed of which sometimes reached up to 40 km / h, a storm in the sea, a weather cooling to 13 ° C and oblique rain at the cycle stage introduced their directives into the participants' plans. For the safety of athletes, by the decision of the technical delegates, the swimming was canceled. Instead of the prescribed 1900 m of swimming, the athletes overcame a run of 2625 meters, then a cycling race of 90 km and another running stage 21.1 km long. Not all participants had the experience, skill and "iron" will to conquer such a "storm" triathlon. However, the majority managed to successfully finish and show decent results.
In Elite category, the member of the national team, Alexander Autushko from Shymkent, finished first. He showed time 4 hours 12 minutes 00 seconds and was awarded the title of champion of the country in the "middle" distance.
In Age Group category in the overall classification among men, Alexei Kutsev from Moscow became the best. He covered the entire distance in 4 hours 18 minutes and 45 seconds. Well, for women, for the second year in a row, Elfira Dudnik from Almaty became the winner of the final start. Her time is 5 hours 21 minutes and 28 seconds.
The winner among ten relay teams was the team from Almaty - 3ArtTeam, which included Seitov Almas, Saltanat Kazybaeva and Alexey Sidorenko. The final result of the team was 4 hours 45 minutes and 04 seconds.
Thus, one of the most memorable starts of the 2019 season was held - the TEMIRADAM Cup Final, which they already managed to call the "Kazakhstan Kona". Next, the TEMIRADAM Cup winners will be determined by the accumulated final points for the past season. The results of all athletes can be found on the website www.triathlon.org.kz in the "Results" section.
---