Capital athletes crowned the triathlon championship in Kostanay
17 July 2021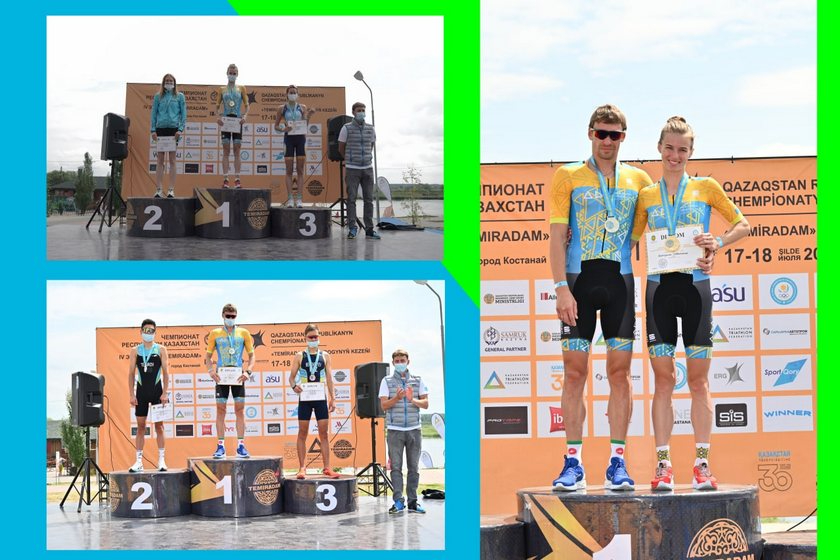 On July 17, the Open Championship of the Republic of Kazakhstan in triathlon among Elite and U23 categories ended in Kostanay. The championship was attended by 19 athletes from Nur-Sultan, Almaty, Shymkent, Akmola and Kostanay regions. The participants determined the champions for the Olympic distance, which consisted of swimming 1500 m, cycling 40 km and running 10 km.
The Kostanay weather met the participants of the championship without any surprises: the thermometers kept the mark + 26 ° С, and the water was + 19.7 ° С.
In the Elite-F category, the first place was expectedly won by the leader of the national ranking Ekaterina Shabalina from Nur-Sultan (2:10:45). The second was finished by Arina Shulgina (Kostanay region), who lost more than 5 minutes to Shabalina. The third place was closed by the Almaty sportswoman Daria Bychkova with the result 2:16:56.
In men in this category, the gold medalist was the representative of Nur-Sultan Ivan Tutukin with a final time of 1:56:20. Silver was awarded to Temirlan Temirov (Akmola region) for the result 1:57:26. Ayan Beisenbaev (Akmola region) finished third. His time is 1:58:25.
In U23 category not everyone managed to reach the finish line. Daniil Zubtsov (Kostanay region) and Nikita Svetlichny (Shymkent) were disqualified for shortening the swim course. Vitaly Andreev (Kostanay region) and Alexander Kostantinov (Akmola region) were LAP-ed by the chief judge because of a lap back from the leader of the race. Thus, only two athletes managed to stand on the podium. The first place was taken by the capital sportsman Beksultan Kairov (2:24:22), the second - by the representative of Shymkent Vladislav Kudin (2:29:46).
For women in this category, only Nadezhda Bekmaganbetova from Nur-Sultan made it to the start. She finished in 2:18:24 and earned the ranking points she deserved.
We remind you, that the events were organized with the support of the general partners: the National Welfare Fund Samruk-Kazyna JSC, the Samruk Kazyna Trust Social Projects Development Fund and the Eurasian Resources Group, also financial partner Sport Qory Tourism and Sports Industry Support Fund.
All results of the championship can be found here.
Tomorrow, within the framework of the second race day in Kostanay, the participants of the TEMIRADAM Cup IV stage will enter the start line.
---