​The winners of the 2021 club classification are determined
27 September 2021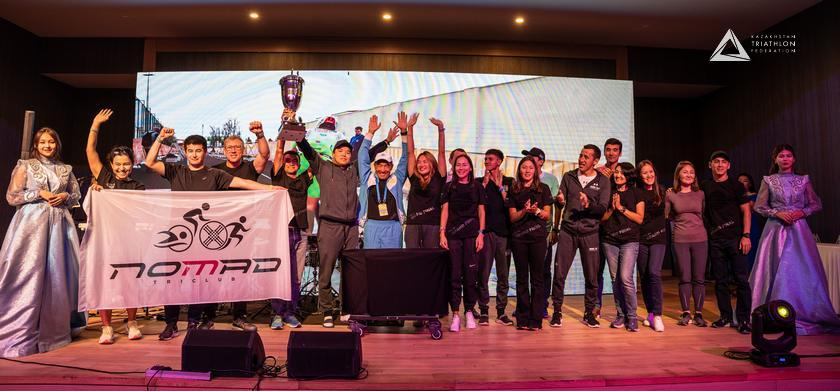 This year the Kazakhstan Triathlon Federation has launched a club system for the first time in its history. Professional triathletes and amateur athletes created and officially registered clubs, began to participate in the TEMIRADAM Cup club classification.
In the debut season, only six clubs competed: ERG Team, Nomad TriClub, MIRONTRIATHLONTEAM, Ironqazaqstan, World Class Almaty Triathlon School and Triathlon Aktobe. Representatives of Pro and Age Group categories competed at the cup events and gained ranking points throughout the year. After a great race on the Caspian Sea coast and an equally hot season in 2021, we are summing up the club system results.
Nomad TriClub from Nur-Sultan has forever inscribed its name in the history of Kazakhstani triathlon. Nomad TriClub scored 1,645 points in a season and became the first club winner. Ironqazaqstan is in second place with 1338 points, in third place is ERG Team (750 points).
In the Pro-F category Ekaterina Shabalina became the best athlete of the season with 360 points. The second place was taken by Nadezhda Bekmaganbetova from ERG Team with 330 points.
In the Pro-M category Daryn Konysbaev from Nomad TriClub has the most victories. He scored 320 points. The second place was taken by Ivan Tutukin with 120 points. Anuar Turubayev from World Class Almaty finished the season in third place (100 points), in fourth - Alikhan Abuseit from ERG Team (65 points), in fifth - another representative of the ERG Team Yerassyl Amanzholov (30 points).
The winning club received the TEMIRADAM transition cup and will defend it next season. All winners and prize-winners were awarded cash awards, allocated with the support of the general partners - NWF Samrk-Kazyna JSC and Eurasian Resources Group, as well as the financial partner Sport Qory Fund for the Support of the Sports and Tourism Industry.
All results are available at www.temiradam.com.
---