Kona 2019: the brilliant victory of Vinokurov
13 October 2019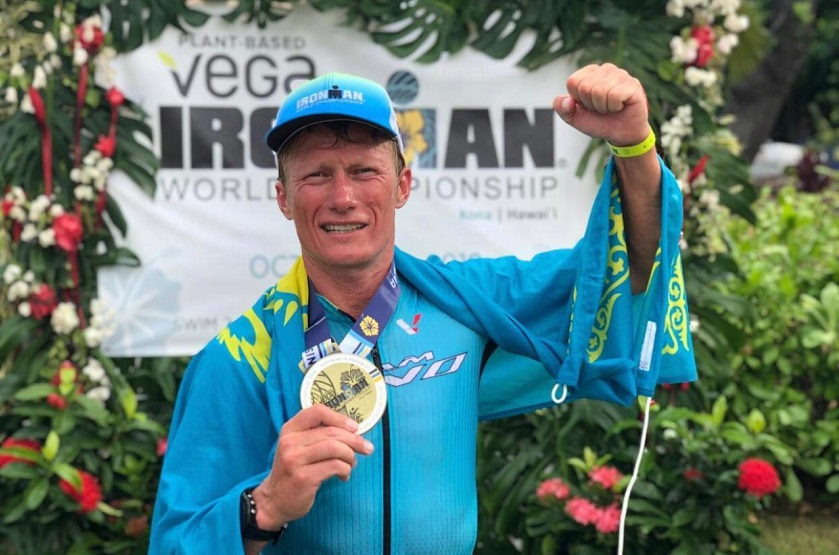 On October 12, the main race of the year for many triathletes was held on the island of Hawaii - the Ironman 140.6 World Championship. The track of this race is recognized as one of the most difficult in the world of a long triathlon, and the really strongest can win here. The distance is complicated by the scorching sun, high humidity and gusty wind. The total distance limit is 17 hours.
This year, Kailua-Kona hosted 98 professional athletes (55 men and 43 women) and 2,373 Age Groupers (1722 men and 651 women) from around the world. Kazakhstan was represented by 4 athletes: Alexander Vinokurov, Alexey Sidorenko, Pavel Artyushenko and Dina Shaimerdenova.
The best time among our athletes, as expected, was shown by the Olympic champion, honorary member of the KTF Alexander Vinokurov. Alexander overcame the "Distance with the Oven" in 8 hours 48 minutes and 24 seconds. Thus, Alexander Vinokurov for the first time in the history of the Kazakhstan triathlon was able to become a champion in his age group and gender category at the Ironman140.6 World Championship. This result allowed our champion to enter the top 50 of all the championship participants and be placed on the 43rd line among all 2373 participants. Literally a month ago, he became the champion in his age group M45-49 at the Ironman 70.3 World Championships in Nice.
The second result among Kazakhstanis belongs to repeated Ironman Pavel Artyushenko. Pavel, racing in the age group M40-44, was able to overcome his next "iron" distance in 9 hours 58 minutes and 31 seconds. Another of the Kazakhstani Ironman Aleksey Sidorenko conquered the Kona track in 10 hours 33 minutes and 33 seconds.
A number of Kazakhstani few Diamond Ladies was supplemented by another excellent athlete Dina Shaimerdenova, who finished with time 12 hours 12 minutes and 09 seconds.
In the men's PRO category, the Olympic champion in 2008, two-time Ironman 140.6 world champion (2015, 2016), two-time Ironman 70.3 world champion (2015, 2018), the famous German triathlete Jan Frodeno won the title. Already a three-time world champion overcame the entire distance in 7 hours 51 minutes and 13 seconds and set a new course record, improving Patrick Lange's record in 2018 (7 hours 52 minutes 39 seconds). The Silver was won by Tim O'Donnell - 7 hours 59 minutes and 40 seconds. Sebastian Kienle closed the top three with a score of 8 hours 02 minutes and 04 seconds.
The world champion in this category became one of the most important race favorites German Anna Haug with a time of 8 hours 40 minutes and 10 seconds. Haug became third last year at her debut in Kona. The second result of 2019 was demonstrated by Lucy Charles-Barclay –8 hours 46 minutes and 44 seconds. Sarah Crowley became the "bronze" medalist. Her result is 8 hours 48 minutes and 13 seconds.
Photo: @ironmantri, Alexander Vinokurov
---