Mixed Relay National Championship: Results of regional teams
10 July 2021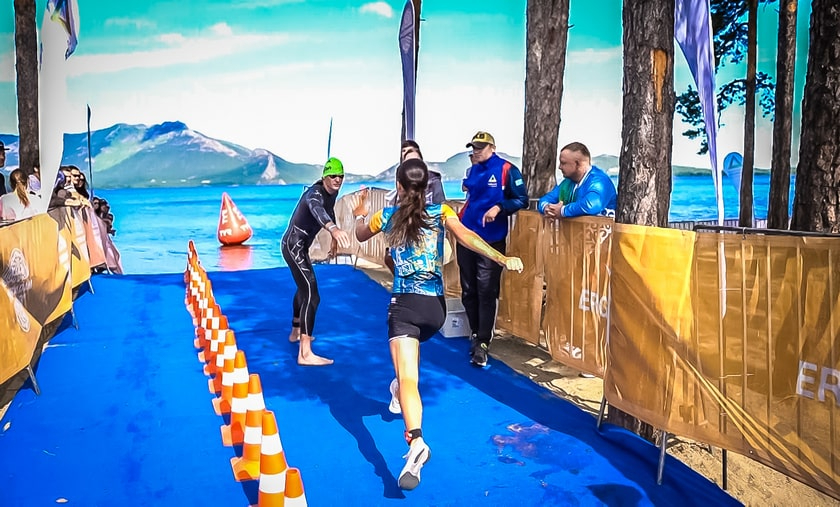 Today in Burabay the Open Mixed Relay Championship of the Republic of Kazakhstan has ended. The last time sports fans watched such an interesting triathlon format was only in 2019 at the V Summer Spartakiad in Karaganda.
The competition was attended by 16 teams of Elite and U15 categories from Almaty, Nur-Sultan, Shymkent, as well as Akmola, East Kazakhstan, Zhambyl and Kostanay regions. Each team included four athletes (2 female and 2 male), who took turns covering a distance consisting of a 250 m swim, a 6.6 km cycling race and a 1.6 km run.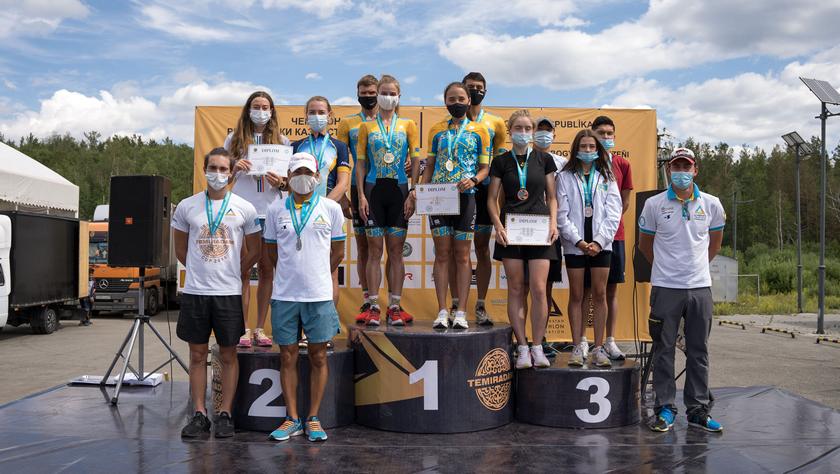 In the Elite category, well-coordinated work was demonstrated by a team from Nur-Sultan, which included Ekaterina Shabalina, Daryn Konysbaev, Nadezhda Bekmaganbetova and Ivan Tutukin. The rivals failed to keep the pace set by the leader of the national rating Ekaterina Shabalina at the very beginning of the race. As a result, the capital team became the champion of the country with a final time of 1 hour 27 minutes and 34 seconds.
Julia Ozerova, Anuar Turubaev, Daria Bychkova and Kirill Rozhkov, who defended the honor of the city of Almaty, took second place in the Elite category with a result of 1 hour 32 minutes and 24 seconds. The three leaders were closed by the team of the Akmola region, which included Anastasia Zakharova, Meirlan Iskakov, Natalya Korotkova and Temirlan Temirov. The total time - 1 hour 37 minutes and 07 seconds.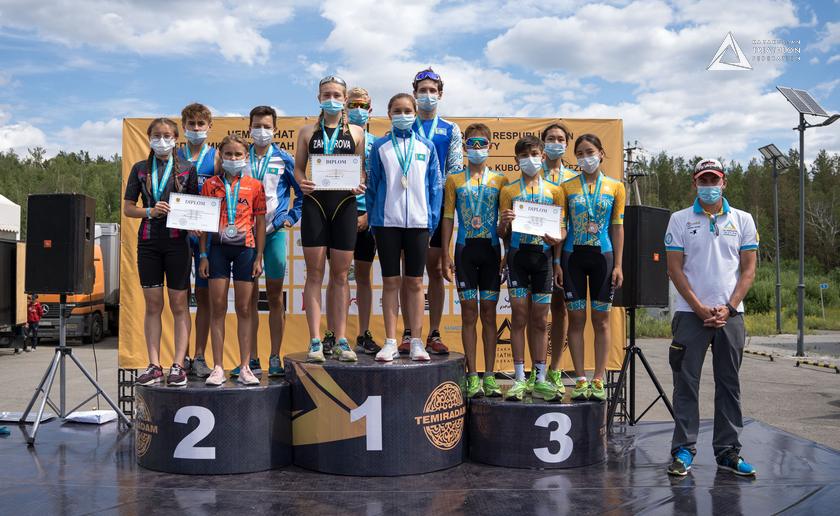 There was a lot of competition in the U15 category. So, the girls' leaders changed after each stage. Angelina Redchenko, Stanislav Glock, Eva Loshkomoynikova and Nikita Dubinsky, who played in the first team of the Akmola region, won the hard fight and won gold medals in 1 hour 43 minutes and 45 seconds. Yuliana Petrova, Sergey Petrov, Anel Isabayeva and Timur Bakirov (Akmola region) took second place with a score of 1 hour 45 minutes and 10 seconds. And, finally, the bronze medal with a total time of 1 hour 45 minutes and 56 seconds was won by Diana Yerzhanova, Kuanysh Bekenov, Dara Ungarbaeva and Alinabi Maralbekov, representing the Nur-Sultan.
The first day of competition in Burabay ended with such results. Tomorrow, on July 11, the participants of the TEMIRADAM Cup III stage will enter the start line.
We remind you, that the events were organized with the support of the general partners: the National Welfare Fund Samruk-Kazyna JSC, the Samruk Kazyna Trust Social Projects Development Fund and the Eurasian Resources Group, also financial partner Sport Qory Tourism and Sports Industry Support Fund.
All the results of the championship can be found here.
---