The Annual Congress of the Kazakhstan Triathlon Federation was held in Astana
11 December 2018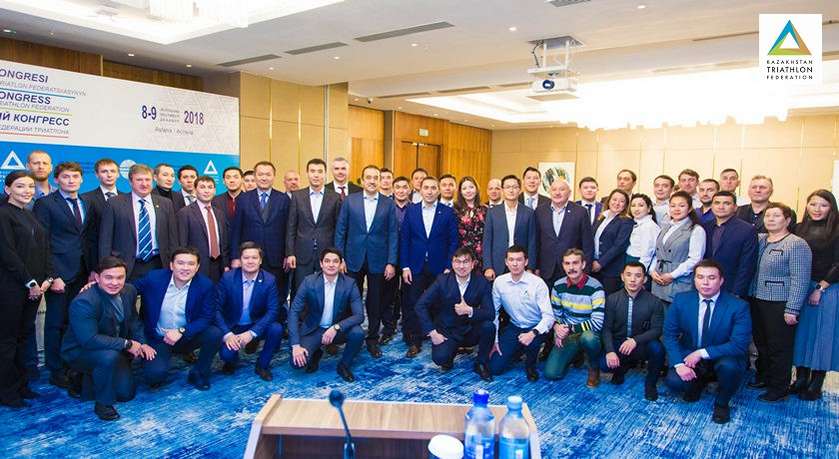 Today, in the Hilton Astana hotel, the Annual Congress of the Kazakhstan Triathlon Federation has completed its work.
The work of the Congress was distributed over two days: on the first day, meetings of the relevant committees of the Federation were held, during which the main vectors of KTF development for the following year were identified. Well, today, on the second day of the Congress, a solemn meeting of the Federation was held, chaired by KTF President Karim Massimov with the participation of the Vice-Presidents of the KTF, Aidyn Rakhimbayev and Galimzhan Yessenov, as well as representatives of the Ministry of Culture and Sports of the Republic of Kazakhstan and the National Olympic Committee, during which the report of the KTF Secretary General Maxim Kryat on the results of the Federation's activities last year and plans for the next year was heard.
At the end of the meeting, Karim Massimov awarded Cups of particularly distinguished athletes and coaches, Honorary diplomas to Federation members who made a significant contribution to the development of triathlon and awarded honorary "TEMIRADAM" titles to Age Group athletes who finished in all KTF competitions this year.
So, in the nomination "Breakthrough of the Year - the Best Young Athlete" won participant of the Youth Olympic Games in Buenos Aires Daniel Zubtsov (Shymkent). The silver medalist of the Asian Games in Indonesia Ayan Beysenbayev (Akmola region) became the "Athlete of the Year". The title "Coach of the Year" was awarded to KTF head coach Andrei Glushchenko. The special award "Dynamically Developing Regional Federation" was awarded to the Triathlon Federation of Astana. The "Federation of the Year" was the Almaty Triathlon Federation.
Diplomas of honor were awarded to: Honorary Member of KTF Daut Shaykhislamov, Head of the Triathlon Federation of Zhambyl region Zhanat Babayev, members of the executive committee of Ironman Astana Alexey Sidorenko and Sergey Bodrov, anouncer of KTF sports events Alexander Oleinik.
And finally, the first owners of the honorary title "TEMIRADAM" were: Murat Aubakirov (Astana), Adlet Bakytuly (Astana), Dauren Mierbekov (Astana), Rinat Salikzhanov (Astana) and Alexander Khitrov (Pavlodar). All owners of the title "TEMIRADAM" from the hands of the President of KTF received special insignia and certificates for free participation in the Ironman Astana 70.3 in July 2019.
---