Regional Results - October
8 November 2018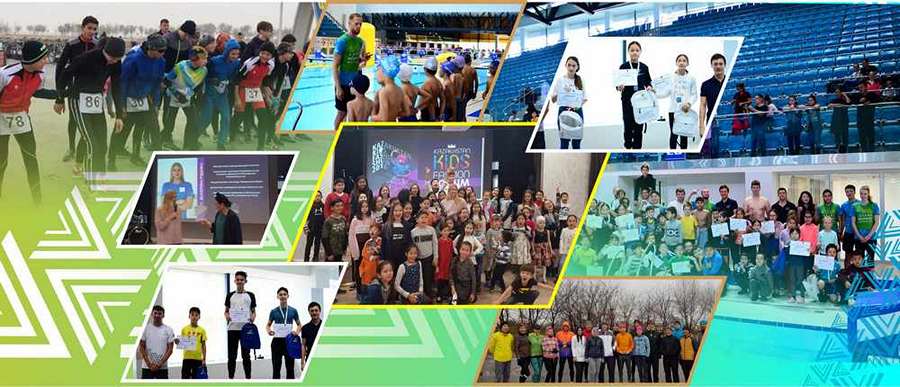 After the "TEMIRADAM" Cup's final, which was first held in Aktau in September, many of our athletes managed to close the 2018 season for themselves and proceeded to intensive preparations for the upcoming season, which promises to be even more intense. Well, in the meantime, our regional federations continue their systematic and varied work aimed at developing and popularizing triathlon in the regions.
The Astana Triathlon Federation is continuously active in the framework of the development program of the children's triathlon "TEMIR BALA". Thus, on October 21, the capital federation held aquathlon competitions among young students of the triathlon children's section based on the "Barys Arena" sports complex. Young participants were provided with conditions simulating open-water competitions, passing through the transit zone and a quick transition to the run course. More than 90 children took part in the tournament. As an incentive measure, the winners were given the opportunity to continue the training process in the triathlon section at no cost.
In addition, the head coach of the capital triathlon federation Murat Aubakirov, together with the legendary ultra-marfoner Marat Zhylanbaev, conducted several master-classes on running with young athletes, during which the children received personal advice on how to improve running techniques.
Meanwhile, the specialists of the Almaty Triathlon Federation, with the assistance of KTF, are working hard with the administration of the southern capital to open a triathlon department at the city school for children gifted in sports, which will give additional impetus to the development of children's triathlon in Almaty.
On October 30, the newly formed Shymkent Triathlon Federation held the first open city championship in duathlon among Elite athletes, which was attended by 57 athletes from the city of Shymkent and the Turkestan region, including members of the national triathlon team S. Pivovarov, S. Kossak and D. Zubtsov. Athletes aged 9 to 18 years, divided into several age groups, tested their strength at the "super-sprint" and "sprint" distances. The head coach of the national triathlon team, Dandybai Alimbaev, who took part in the judging, noted that interest to the triathlon in the region is growing and more and more children are starting to practice triathlon.
---